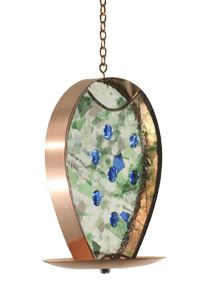 Jeweled Dinner for Two
shown in
Blue, Purple & Green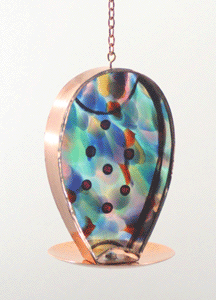 Jeweled Dinner for Two
shown in
Pink/Blue-Multi
Jeweled Dinner for Two
Tray Bird Feeders
The Dinner for Two combines sparkling stained glass with durable copper to create a bird feeder that is both beautiful for the owner and brings in the birds. Over time the sides and tray will acquire the blue-green patina that is distinctive of genuine copper. Approx. 7-1/2 in. high x 5 in. wide x 5 in. deep.
Birds: Depending upon your location, cardinals, chickadees, gold finches, nut hatches and other small seed eating birds will flock to this stained glass bird feeder.
Added Features: Drain holes in the solid copper tray keep the seed dry. Fills from the top back. This tray feeder is also great for those small spaces where a big feeder doesn't fit.
Special Gift Idea: Many people have given the "Dinner for Two" bird feeder as a wedding or anniversary gift to a young couple and have included money or a gift certificate for dinner for the two of them.
Colors Available:
Blue, Purple & Green: This lovely glass looks like blue & purple flower petals amidst a sea of green leaves. Antique glass jewels sparkle on the back.

Pink/Blue-Multi: Lovely watercolor swirls of pink, blue and aqua make this bid feeder special. Complimenting antique glass jewels add sparkle to the back.
Blue/Gold-Multi: These Dinner for Two tray bird feeders have the same wonderful Blue & Gold glass as the Jeweled Garden Party feeders with swirls of blues, coppery golds, and rusts. Antique glass jewels add sparkle to the back.
Red & Green: Flecks of red like rose petals against green leaves on clear glass with sparkling antique glass jewels.
I'm sorry, but I'm temporarily sold out of this color combination.
Jeweled Dinner for Two
$99