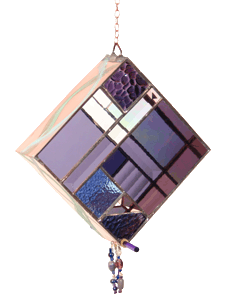 Ala Carte
(Sorry. Purple color
not available)
Ala Carte Alfresco
("Outdoor dining your way")
This bird feeder combines a modern design with the traditional beauty of stained glass. Textured and patterned stained glass combined with coordinating beading, make each Ala Carte bird feeder a unique and special work of art. 9-1/2 in. high x 8-1/2 in. wide x 2-1/2 deep.
Birds: Depending upon your location, birds you'll see at this feeder are the chickadee, goldfinch, nuthatch, purple finch, downy woodpecker, and other small, seed-eating birds.
Added Features: Grackles, crows and other large nuisance birds cannot use this bird feeder. A small snap hook in the beading on the bottom enables you to hang two of these bird feeders together if you wish ("ala carte") so four birds can dine at once. Or the Ala Carte looks good hanging from a Tipped Prairie feeder. See picture at right.
Colors Available:
Gold, Moss & Peach: One of my newest color combinations with rich golds, soothing moss and soft peach ... reminiscent of the Frank Lloyd Wright era of wonderful colors. This feeder looks great with the Tipped Prairie in Gold, Moss and Mauve. (Colors are similar to the Celebrity featured on the Celebrity page.)
I'm sorry, but I'm out of stock of the Ala Carte Alfresco bird feeder.
Ala Carte Alfresco
$125