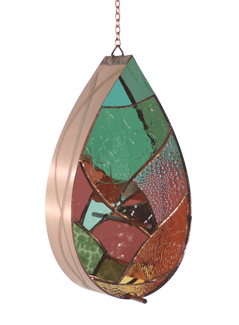 Cornucopia Quad
shown in
"Gold, Moss & Mauve" colors
Cornucopia Quad
Thick copper sides surround stained and textured glass to create a stunning bird feeder. This feeder has a very large seed capacity. A must for busy bird lovers who never want the birds to go hungry. The second perch allows four birds to dine together which is great for yards that attract all the birds in neighborhood. 13 in. high x 7 in. wide x 3-1/2 in. deep.
Birds: Depending upon your location, birds you'll see at this feeder are the chickadee, goldfinch, nuthatch, purple finch, downy woodpecker, and other small, seed-eating birds.
Added Features: Grackles, crows and other large nuisance birds cannot use this bird feeder. Two perches on front and back allow four birds to dine together. A larger seed capacity means you need to fill this bird feeder less often. -- Great for northern winters when three feet of snow is on the ground!
Colors Available:
"Bright": Blues, purples and greens make this feeder pop with color. These bright colors make this stained glass and copper bird feeder look especially wonderful on a snowy day. "Bright" Cornucopia Quad bird feeder shown above.
Gold, Moss & Mauve: My newest color combination ... reminiscent of the Frank Lloyd Wright era of rich golds, soothing moss and wonderful, browny mauve.

Blue/Aqua: The soft aqua and cool blue colors in this bird feeder are reminiscent of peaceful ocean views. These will sparkle and look great in any yard. See this color combination in the feeder on the right side of the Northern Light page.

Cornucopia Quad
$185