What My Customers Say
"Dear Julie,
Received my bird feeder just now and wanted to send my very special thanks to you.
It's exactly what I wanted! Your work is fabulous!!
I'll think of your G'ma Ruth's garden and Martha's (mine). They taught us well, didn't they?"
Thanks So Much."
S.B. in Yucca Valley, CA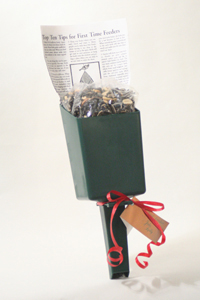 Scoop and Seed
Package
Scoop and Seed Package
This package lets you start enjoying your bird feeder right away. The wonderful funnel/scoop has a nifty open and close lever. You can just scoop up the seed and easily fill your feeders. This scoop works with all my bird feeders and makes filling them a breeze.
The scoop comes already filled with sunflower seeds and includes my Top Ten Tip sheet for bird feeding.
This Scoop & Seed Package is a thoughtful addition to bird feeder gifts.
Scoop & Seed Package
$20