What My Customers Say
"Julie, thank you so much for getting the feeder to us in time for Ralph's 90th birthday.
We (under cover of dark) hung it outside his window the night before the party, and when he opened his curtains in the front window that morning, the birds were already all over it.
He was enchanted, and it was a highlight of his day. Thank you again for taking the extra effort to get it to us in time."
M.R. in York, PA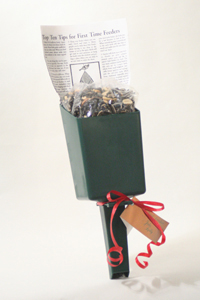 Scoop and Seed
Package
Scoop and Seed Package
This package lets you start enjoying your bird feeder right away. The wonderful funnel/scoop has a nifty open and close lever. You can just scoop up the seed and easily fill your feeders. This scoop works with all my bird feeders and makes filling them a breeze.
The scoop comes already filled with "Julie's Blend" bird seed mix. I've had great success with this high energy, no-filler seed mixture. It has three types of sunflower seeds (striped, black & hulless) and peanut hearts.
Also included is my Top Ten Tip sheet for bird feeding.
This Scoop & Seed Package is a thoughtful addition to bird feeder gifts.
Scoop & Seed Package
$8