Copper and Stained Glass Bird Feeders
Welcome to my Stained Glass and Copper Bird Feeder Web Site. I've been selling my copyrighted bird feeders for over thirty years at art shows all across the country.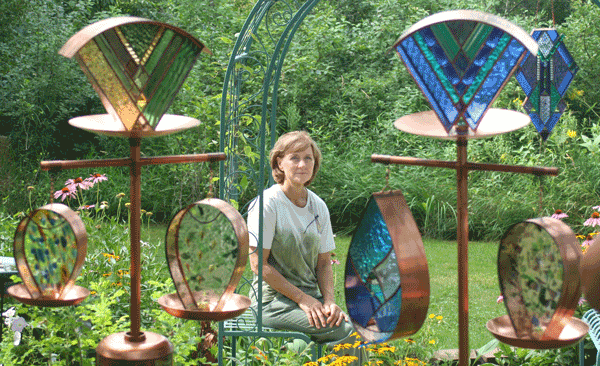 Julie in her garden surounded by her art
As you can see above, I have many styles of bird feeders. The feeders with perches are ideal for the smaller birds like chickadees and finches. The feeders with trays attrack blue jays and cardinals in additon to the smaller birds. All feeders come with chains for hanging, and many of my tray feeders can also be mounted on a post using my post conversion kit. Browse around my gallery of Copper Bird Feeders by clicking on the button at left or by clicking here Stained Glass and Copper Bird Feeders.
I also have some accessories to make hanging your feeder easier. My J-bracket is a safe and convenient way to hang your feeder from a wall, post or other vertical surface. I have mine mounted above my windows so I can see the birds eating up close. My "Tee for Three" accessory is designed to be mounted on the top of one of my posts and allows you to hang two more feeders from one of my post-mounted tray feeders. Both of these items can be found in my Bird Feeder Accessories Gallery.
I will promptly let you know the status of your order with a return email. I typically ship your order within a week of receiving it. The shipping and handling charges are automatically calculated for shipments to the lower 48 states only. Please contact me for shipping to Alaska, Hawaii or internationally.
Please call me if you have any questions or prefer to place your order "in person": 612-723-1278 or

I hope you enjoy your visit to my web site.
Happy Bird Feeding,
Julie